João Pedro the jewel in Fernando Diniz crown as Fluminense rout Atlético Nacional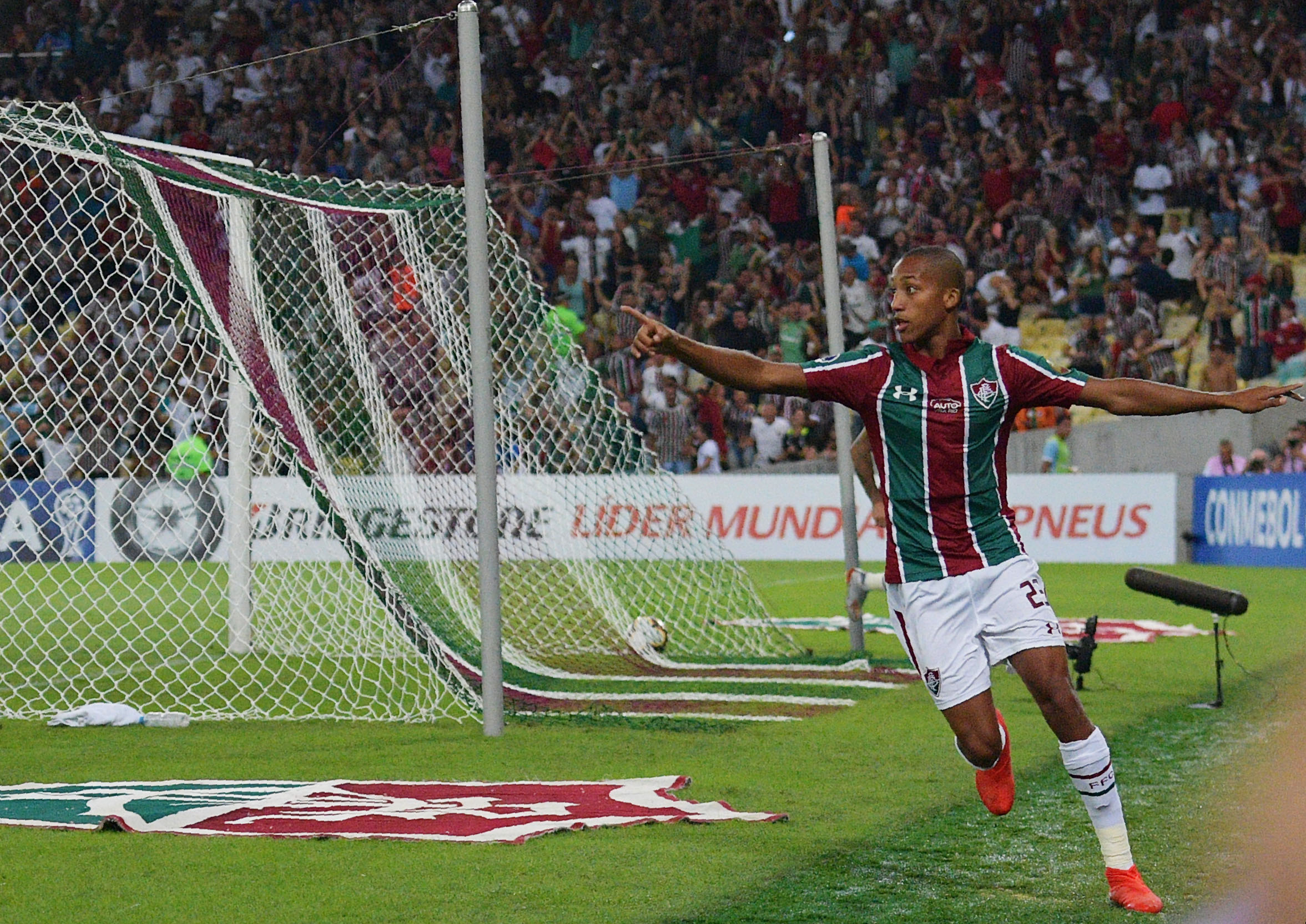 It is an old adage in these parts that one of the most exciting things about watching South American football up close is the opportunity to observe first-hand the next big thing to fall off the seemingly never-ending production line of talent. The Copa Libertadores and the Copa Sudamericana are huge windows of opportunity for rising stars to showcase their potential outside of a domestic setting.
Just over the last decade the likes of Neymar, Douglas Costa, Wellington Nem, Bernard and, more recently Vinicius Junior and Arthur have given glimpses to a South American audience of their capabilities before moving on to the Old Continent. And in a goal-packed week in the second phase of the Copa Sudamericana, fans were given an eyeful of the next teenager making a name for himself in South American continental competition.
When the draw was made for the second round of the competition earlier this month, it was widely considered that of all the Brazilian clubs, Rio de Janeiro outfit Fluminense had been given the rawest deal, drawing Atlético Nacional of Colombia, winners of the Copa Libertadores – the continent's premier club competition – as recently as 2016.
How would a Fluminense side trying to adapt to new coach Fernando Diniz's methods deal with one of the biggest names in South America? After a slow start to the national league championship, the Brasileirão, there have already been murmurings in the Brazilian press of an imminent change at the helm of the Fluminense ship.
This past Thursday evening (23 May), in front of close to 30,000 fans at the Maracanã, the 17-year-old João Pedro and his teammates did not even give their Colombian visitors a chance to settle. Less than three minutes were on the clock when his firm, accurate header – a sure-fire indication of a player brimming with confidence – hit the back of the net to give the carioca club a dream start on their way to a hugely impressive 4-1 win, quite probably their finest performance of the season to date.
🎩🇧🇷 @FluminenseFC's 17-year-old striker João Pedro recorded a hat-trick in his #Sudamericana debut to lead his side to an impressive 4-1 victory over @nacionaloficial! pic.twitter.com/Csiz80wYQZ — CONMEBOL Sudamericana EN (@TheSudamericana) May 24, 2019
One of the most encouraging aspects of João Pedro's performance on Thursday was that he demonstrated he is about far more than simple goal poaching. The youngster was involved in almost every threatening move the Brazilian team put together in the final third of the pitch.
He dropped back to link up with midfield and full-backs; he moved out wide to open space through the middle for players running from deep; and crucially he showed his vast array of finishing touches, with a deft chip to double Fluminense's lead before the match was nine minutes old.
Just after the half-hour mark, he had his hat-trick and Flu's fourth, the alert forward reacting first as the ball came back off the woodwork to steer home. The tricolor crowd was jubilant – there was a new prince among men in those famous stripes.
Much of the credit for the way this Rio club is playing goes down to Diniz. He is one of a handful of young, up and coming coaches in Brazil who are attempting to play fast-paced, pressing football on the ground, and it is currently paying rich dividends (Eduardo Barroca, at Botafogo, who managed a 1-0 victory over Sol de America this week, is another).
On paper, this Fluminense is far from the strongest team in either the Brasileirão or the Copa Sudamericana. Diniz however has been adept at building a team greater than the sum of its parts, coaching a side to play effectively with a high defensive line despite an obvious lack of pace, as well as finding a pivotal role for Paulo Henrique Ganso in the middle of the park – the former Santos man has the vision and talent to be the conductor of Diniz's orchestra.
🎩 And to cap it all off, a second-chance finish gave the 17-year-old his hat trick and his side an impressive result!#Sudamericana pic.twitter.com/i69C80beri — CONMEBOL Sudamericana EN (@TheSudamericana) May 24, 2019
As is usually the case in this corner of the world, however, the inevitable has already happened. João Pedro will be a player in Fluminense colours for a limited time only, and we shall be seeing him in the bright yellow of Watford by July 2020 at the very latest.
His adaption to a new country, a new language, a new style of play, could all take time, especially at such a tender age. What the striker left in no doubt this week was his abundance of talent and enormous potential he possesses to make a success of his move to Vicarage Road, much in the same way Richarlison has done. The former Fluminense and Watford forward, now at Everton, will be part of Tite's 23-man squad at the Copa América next month.
Fourteen months is a long time in football however, and with the Sudamericana final scheduled for 9 November there is still ample time for the teenager to cement his place in Fluminense history. He has made a hell of a bright start in that respect.