Independiente del Valle lift Copa Sudamericana, defeating Colón 3-1 after heavy rain delays game for one hour
What a night!
The first showpiece Copa Sudamericana final was a real fire-cracker of an evening's entertainment but so nearly could have ended in an early wash-out.
Play was halted by Brazilian referee Raphael Claus for a full hour as stadium staff worked tirelessly with brooms and pitchforks to get the players back on the field after only half an hour's play.
The critical passage of the game came before the delay. Between the 19th and 24th minute, the rain grew heavier and puddles started to appear on the playing surface as the game started to open up and crucial mistakes were made.
Club Atlético Colón had started the brighter of the two teams and looked like strangling Independiente's efforts to play their usual fluent passing football. The rain was also assisting the Argentines with their plan and the ball had already started holding up on the service from about a quarter of an hour in.
Then, a through ball over the top of the Independiente defence was just a bit too long for Luis Miguel 'Pulga' Rodríguez and he overstretched for it, pulling his right hamstring in the process. There was no way that Colón's talismanic captain was coming off but he never quite looked 100% comfortable after that.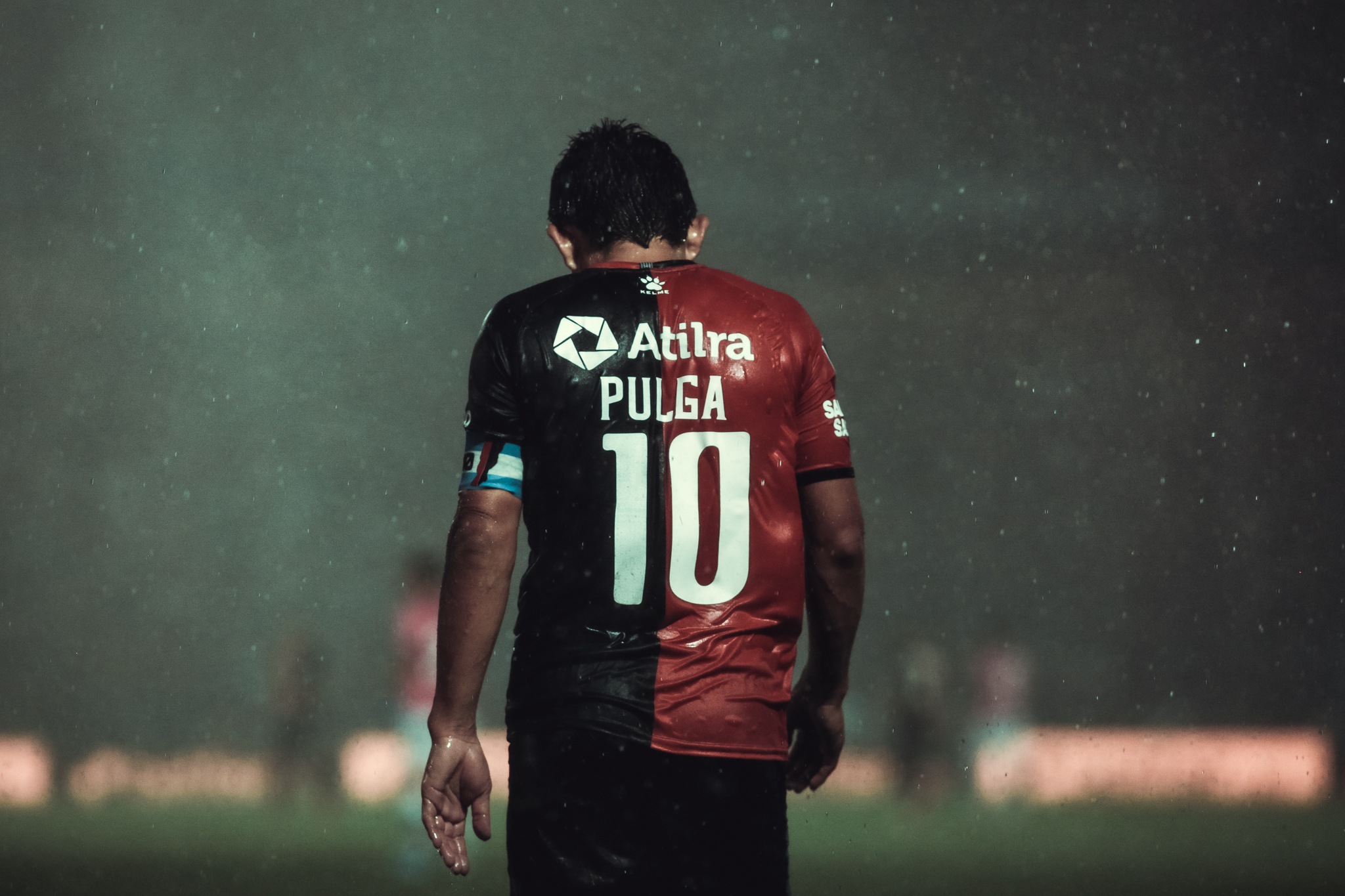 Five minutes later, the pitch was already becoming a swamp as Independiente won a free-kick about 40 yards away from goal on the right hand side. Cristian Pellerano, who put in a quietly commanding performance at the base of midfield, curled a lofted ball high into the wind and rain. It seemed to hold up in the night sky just enough to confuse the Colón defence, who were retreating too quickly, and allowed centre-back Luis Fernando León to powerfully head the ball through Leonardo Burián's legs from the edge of the six-yard-box.
It was a huge release for the Ecuadorians, who had looked under pressure until that point.
The pitch was becoming almost unplayable but Independiente had their tails up and sensed they had the advantage. The pacey Cristian Dájome started to cause havoc on Colón's left flank. Dribbling into the penalty area at speed like some kind of jet-powered hovercraft he was pulled down by Gonzalo Escobar, who will be having nightmares about the Colombian wide-forward for a few nights to come.
Independiente probably should have had a penalty but Claus, conferring with his off-field team and surrounded by remonstrating pink shirts, blew for the players to leave the pitch.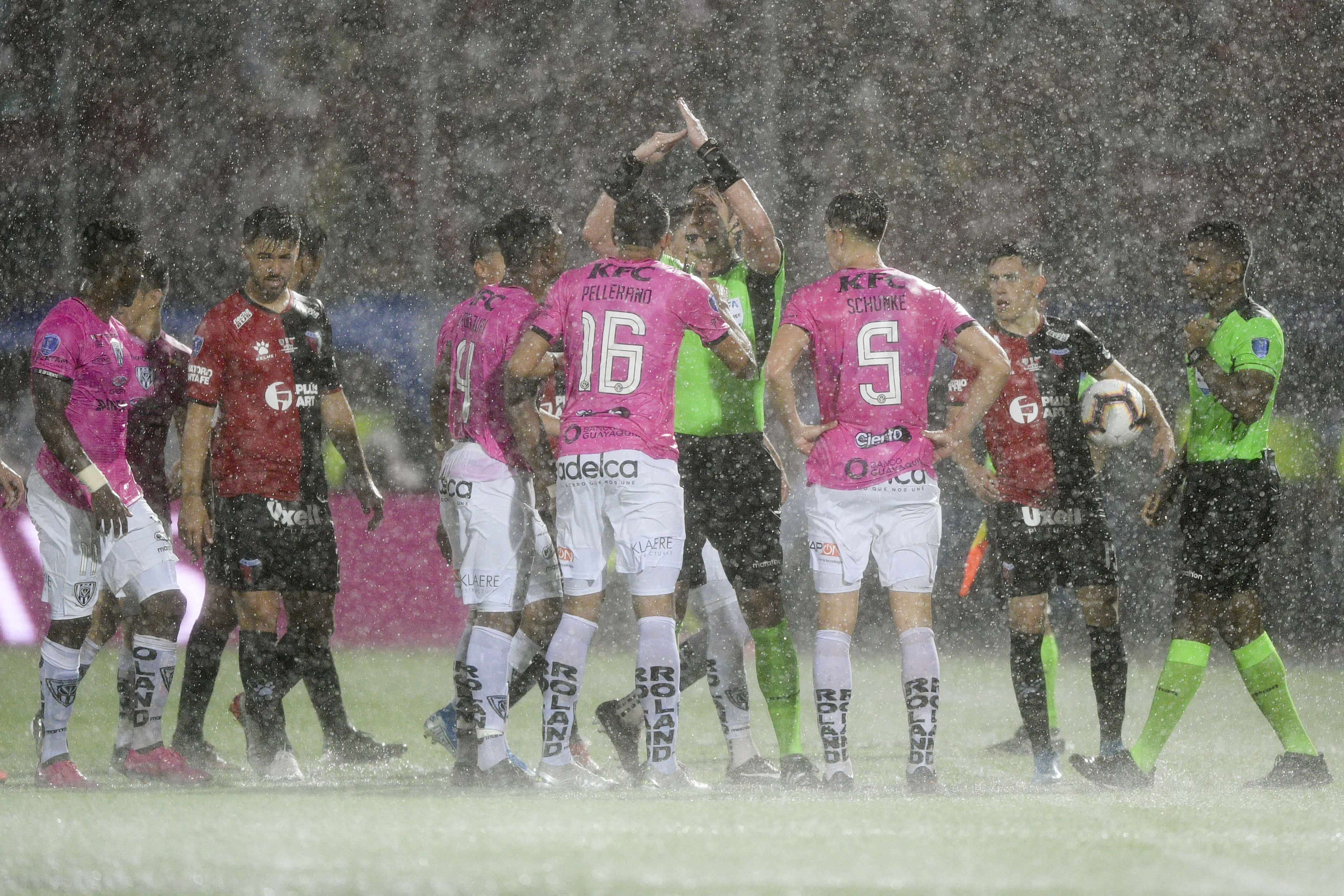 Play was eventually suspended for an hour before everyone came back out to finish the first half.
Colón rallied and managed a couple of half chances before a misplaced pass from Guillermo Ortiz eventually fell to Independiente captain Efrén Mera. With the Colón right-back pushed high up the pitch, Mera played in Jhon Sanchez who burned past the gasping Ortiz in a foot race into the box. He calmly slid it under Burián with the outside of his right and the Ecuadorians went into the break with a two goal cushion.
Five minutes after the restart Colón won a penalty for a push on Morelo but Pulga Rodriguez had to wait another five minutes before he could take the spot-kick following the usual protestations and the inevitable pitchside VAR review. He was clearly also feeling his hamstring and his shot, quite central and a comfortable height for Pinos to save, lacked any conviction at all.
It seemed as though the game was up, when, on the hour mark, the 500 Independiente fans could be heard over the 35 thousand-strong band of travelling Argentines. Los Negriazules were in complete control and Colón were being passed into submission.
Outplayed but defiant, Los Sabaleros managed to pull a goal back after a corner was headed across goal by substitute, Jorge Ortega. The ball flicked up off Emanuel Olivera's thigh and the defender reacted quickest to athletically volley home a late repost into the roof of the net.
Six minutes of injury time flashed up on the screen, which then became seven as Independiente looked to waste time.
In their desperate search for an equalizer, Colón piled everyone forward as Burián pumped the ball downfield. The fresh legs of Roberto Garcés were quickest to the knock-down and he set Cabeza and Dájome through on a simple two-on-one with the goal keeper.
Independiente were thoroughly deserving winners on the night and became the fourth team in South America to win a continental title before a domestic one. They have now qualified for next year's Libertadores and if their 35-year-old Spanish manager, Miguel Àngel Ramírez keeps them in this kind of confident form, who's to say we won't see them all in Rio de Janeiro this time next year?